New York is the 11th state.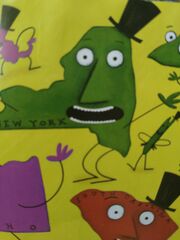 New York
New York's capital is Albany. His best friend is his Long Island. In the 1st he was so excited about switching places. Unfortunately, New York got an earthquake along with Alabama and Indiana. At home, he gave Michigan a funny T-shirt.
In the 2nd book, New York came up with the whole talent show.
Quotes
"Say when!"
"Makes me wanna dance!"
"You look good here."
"Taxi!"
"I knew you'd like it!"
"HEY, EVERYONE! LET'S HAVE A TALENT SHOW!"
"I love it!"