Maryland is the 7th state.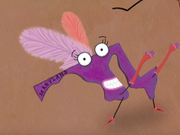 Maryland
Her capital is Annapolis and she is one of the 2 states who border Washington DC.
In the 1st book, She complimented New Mexico's dancing and in the 2nd book she helped Minnesota
Quotes
"It's my pleasure to give you a ride, Washington DC. Are you okay in there, Mr. president?"
"You're a great dancer!"
"I cant hold my arms like this much longer."